About a year ago I received a lovely present for my birthday. It contained this bucket with lots of delicious candy <3 Om nom nom!
I kept the bucket because I thought it was way too cute to throw away, and perfect for a tiny flower! However at one point I put some make up in it. This was unintentional, but I never took it out. I only put more in it.
Now this bucket is for my regular make up I use on a daily basis. Mascara, pencils, fineliner, and some other things like concealer.
We all want our make up to last long enough. But I had the biggest problem with fineliners. They are are my favorite, because it's easy to apply, and just as easy to take off again. However I noticed they dried out very quickly.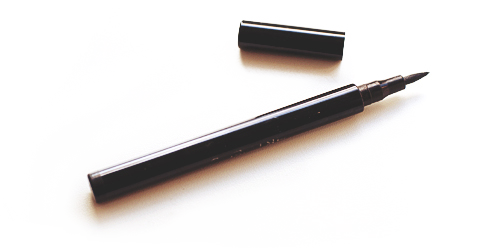 Before I had this bucket, I had like three fineliners. It was frustrating they dried out so fast. Within two or three weeks I needed a new one. Ever since I bought this bucket I realized it's been months since I bought a new fineliner. It doesn't dry out because I put the tip at the bottom. This way the point stays wet.
It's a perfect solution, and it's a nice way to keep your make up as well.Too bad it's not big enough for all my make up! But I keep the rest in a closed-off box =)